Lumiere Residences - LOCATION
Lumiere Residences is located at Pasig Blvd.,Corner Shaw Blvd.,Pasig City.
Located along Pasig Blvd. corner Shaw Blvd., Pasig City, these triple-tower abodes are designed to give its residences the utmost convenience and the resort-like style of living within the bustling Metro. An affordable and cost-effective way of investment aside from being a deluxe enclave for the whole family, DMCI Homes epitomize the use of clean lines and simple design elements but yielding a great and stable contemporary building architecture.
The Lumiere Residences will definitely illuminate you every step of the way as this residence is close by the University of Asia and the Pacific, Lourdes School and St. Paul Pasig. Rizal Medical Center is just a stone throw away from the place.
The Ortigas CBD, SM Megamall, Madison Square, Forum Robinsons and the Greenfield District are in close proximity. While the Unilab Corp., San Miguel Corp., URC, Ynares Sports Arena, the proposed Capitol Commons Development and the Valle Verde Country Club are just around the corner. Let your career shines brightly through the Lumiere Residences Pasig where the light seep through night and day and where living is as exciting as your dream vacation paradise!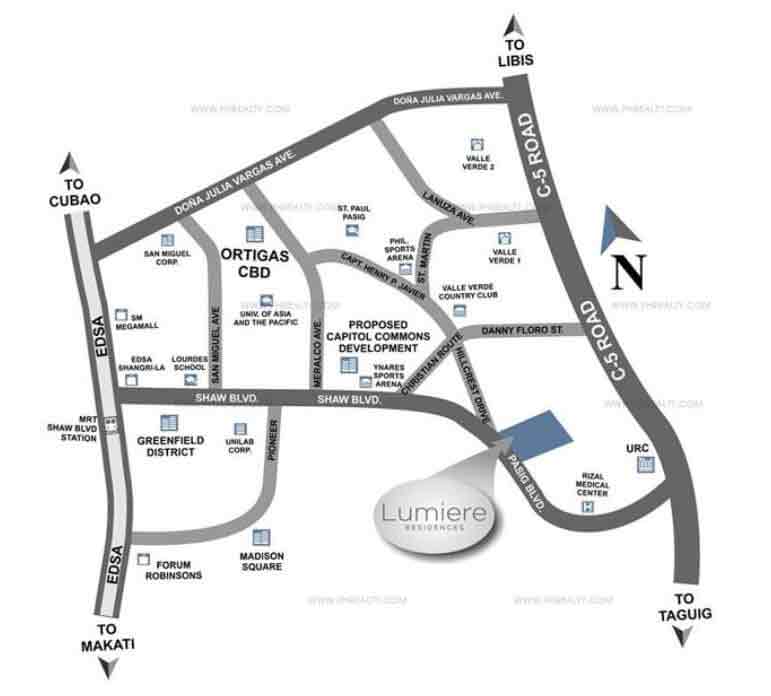 Lumiere Residences is located along Pasig Boulevard corner Shaw Boulevard in Pasig city. Situated on 11,592 square meters of land in a prime location, Lumiere Residences has three towers with 36, 37, and 42 floors. These buildings are all flood-proof, and each has its own basement parking. There is no need to worry about parking space anymore, and you can come home without ever having to worry about circling around finding a place to park on.
Additionally, Lumiere Residences is very near to every place necessary for daily living – workplaces, supermarkets, schools, and hospitals. Ortigas Central Business district is just 2 kilometers away, while Bonifacio Global City is just 3.5 kilometers away via C5. Makati Central Business District (Ayala Avenue) is also close by, just being 7 kilometers away, as well as Libis area which is just around 5 kilometers away.
As for commercial establishments, you will never have to worry about shopping places when you live in Lumiere Residences. Capitol Commons is less than a kilometer away, while Puregold Pioneer and Pioneer center are both less than 2 kilometers away. Big shopping malls such as Shangri-la Mall is also less than 2 kilometers away, while SM Megamall, Robinsons Forum, and Market! Market! are also nearby. Additionally, there are other huge commercial hubs that are just a short drive away, such as Tiendesitas, Eastwood City, Metrowalk, and Madison Square.
Want to run on a track to get fit? No problem there, too. Lumiere Residences is also close to Ynares Stadium and Philippine Sports Arena (ULTRA) so tie those shoelaces up!
Lumiere Residences is also close to educational institutions such as St Paul College Pasig, University of Asia and the Pacific, and Lourdes School which are all less than 2 kilometers away. Pamantasan ng Lungsod ng Pasig and Pasig Catholic College are also close by.
If there are medical emergencies, there is no need to worry as Lumiere Residences is also close to different hospitals. Rizal Medical Center is just less than a kilometer away, while The Medical City can be reached with a short drive. Pasig City General Hospital and St Therese Hospital are also near.
With its close proximity to everything, Lumiere Residences is indeed the light at the end of the grueling, daily traffic tunnel that we all pass through every day.

Succumb to Pasig City's enormous display of brilliant night lights, its fascinating skyline, tremendous skyscrapers, and its lively and dynamic lifestyle. Experience al of these while you are billeted permanently to one of the most exciting condos in Pasig City, the DMCI Lumiere Residences.
This wonderful works of art, aka, residential community, is a high-rise tower with resort-themed amenities soaring high above the landscape of Pasig City. At Lumiere, you can have the iconic view of the mountains of Antipolo and the skylines of Makati, the Ortigas Center, and Taguig. The proximity of Pasig City to these places just make your residency to this historical city more challenging, but basically convenient and comfortable when you need to go to these places to work, shop, dine, be entertained, visit churches, for medical check-ups, and go to school for your kids, and other important activities you need to attend every day.